QuickBooks Online Mac App
My role
I was the lead Product Manager on the project for Intuit. I worked with a team of developers, an interaction designer, a visual designer, and a content designer. Although I was the PM, I worked very closely with the designers, which launched my interest into the field.
About the project
QuickBooks was originally created as a desktop program before graduating to the cloud about 10 years ago. While QuickBooks Online (QBO) has a ton of inherent benefits of being on the cloud, there were also areas that it lacked for not being a native application. This project was the development and launch of a native Mac version of QBO. It was a huge learning experience for me, given that it was my first official product launch.
the opportunity
There had been a huge demand from QuickBooks Mac users for Intuit to show some love towards a native Mac application. QuickBooks Online is great, but has it's limitations as a web only product. It can be prone to slowness, lack of multi-window support, keyboard shortcuts for speed, no access to data once you've closed your browser window. We knew that if we built native Mac version of QBO, there would be an audience.
QBO vs QB Mac
The first thing our team needed to do was to dig into what makes a Mac app. Speed, integration with the system, offline access, and keystrokes were all things that defined what a native Mac app needed. So I worked with our designer to map out the different key areas.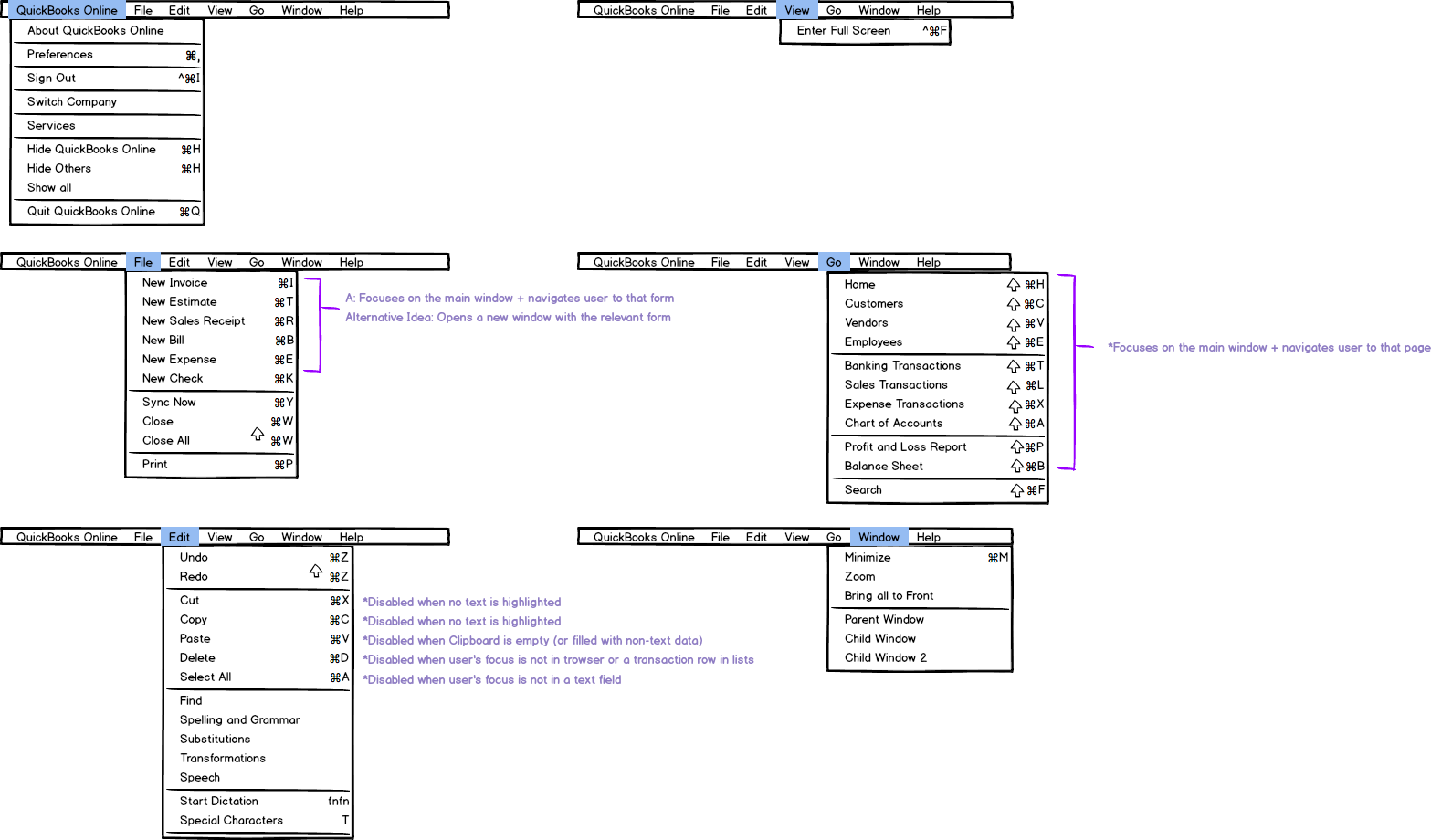 Quickview
One of the coolest features that our team designed and built was QuickView. QuickView is a small widget that lived in your Mac toolbar that would be able to keep you up to date on your business at all times. It gave the user notifications for new downloaded transactions to categorize, invoices that were just paid or became overdue, and tips/recommendations. It has become one of the most loved features of the product!
end results
The QuickBooks Online for Mac app is now live in the App Store and available to download. It has received a 4+ rating as well as Apple's Editor's Choice award. One of the big things our team wanted to focus on was having offline access. Unfortunately, we weren't able to accomplish that for the V1 launch of the app. That functionality is among the highest priorities for new features and improvements in future versions.